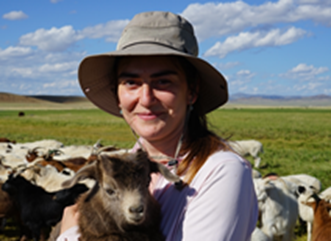 Departmental Lecturer in Human Geography
Since 2004, Ariell has worked extensively in rural Mongolia with mobile pastoralist communities on the topics of land use, social change and rural governance and development issues. She specializes in qualitative research, using methods such as ethnographic participant observation, interviewing, mapping and immersive field work. She is especially interested in translating research into positive social impact.
Her expertise in rural Mongolia has led her to work as a research consultant on Oyu Tolgoi's CAO dispute from 2015-2016 and on social impact assessment for wind development in Mongolia in 2022. Ariell is also the acting Chair of the Commission on Nomadic Peoples and Co-Chair of the Standing Committee for the Dana Declaration on Mobile Peoples and Conservation.